Seguici su

Possiedi un iPhone
scarica la nostra APP
cliccando sull'icona


T.T.I. srl
Azienda certificata
ISO 9001:2000 n░845/07
per le attivitÓ di: agenzia di viaggio, noleggio autobus e autolinee
Travel agency ,



The travel organized with our professional drivers, confortable bus and with the best choice of hotels and restaurant, they make our travels in beautiful grand's cruises with extraordinary organizzation and efficiency.
High quality service.

T.T.I. srl also offers in Italy and in particular in Campania Region following services:
Hotel reservation for groups or individual.

Excursion to Pompei, Ercolano, Vesuvio, Salerno, Paestum, Pozzuoli, Amalfi, Ravello, Capri, Ischia, Naples, Rome, Caserta, Cassino.

Transfers to/from airport/Hotels

Excursions in Rome and surroundings: Vatican City, Ostia, Tivoli, Roman Castles

Ticketing for all major transport systems.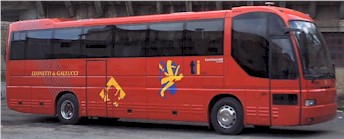 our services:
English speaking guides for all destinations,

Bus excursion for Pompeii archeological site, for Naples, for Amalfi coast, for Ercolano archeological site, for Vesuvius, for mistery villa, for Stabiae archeological site, for Poppea's villa, for Sorrento town.

We make extimation for coach with spaking english driver, quote for sightseeing bus from half day to full-days.
Public Line: Rome - Naples - Avellino - Brindisi - Lefkas - Kefalonia - Patra - Piraeus- Athens INFO: Click here
P.S. The service is valid with reservation. INFO: Click here
Summer connection - period from July to September

+

ITALY - GREECE

We inform from July 2005, in partnership with our travel agency, that we have replaced bus shuttle from and to Naples - Salerno - in coincidence with ferry boat that connect Brindisi - Kerkyra - Lefkas - Kefalonia - Piraeus - Athens
P.S. The service is valid with reservation. INFO: Click here